President Donald announced another historic peace deal for the Middle East on Friday between Israel and the Kingdom of Bahrain.
A joint statement released by the United States, the Kingdom of Bahrain, and the State of Israel announced the "establishment of full diplomatic relations between Israel and the Kingdom of Bahrain."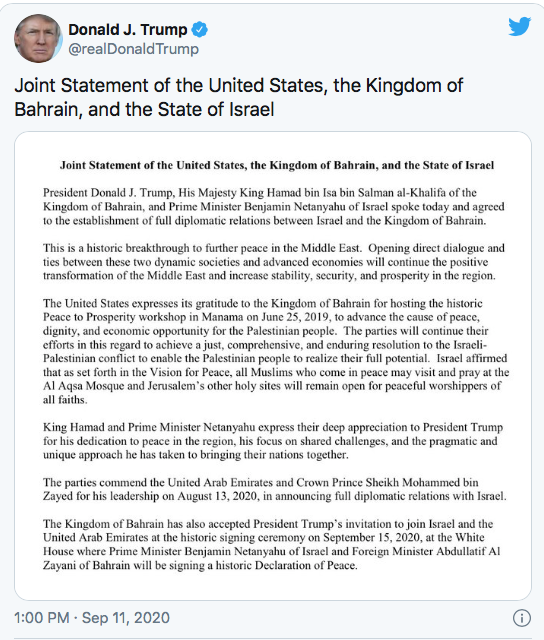 The agreement also specifies that "peaceful worshippers of all faiths" will be allowed to visit mosques and holy sites in Israel.
In the statement, King of Bahrain Hamad bin Isa al-Khalifa and Israel Prime Minister Benjamin Netanyahu expressed their intent to "achieve a just, comprehensive, and enduring resolution to the Israeli-Palestinian conflict" and praised Trump for "his dedication to peace in the region, his focus on shared challenges, and the pragmatic and unique approach he has taken to bringing their nations together."
President Trump tweeted his support of the deal, calling it "another HISTORIC breakthrough" with "our two GREAT friends."
The peace deal is the second of its kind involving Israel in the last month in a broader effort by the Trump administration to facilitate "stability, security, and prosperity" in the Middle East. A similar deal was struck between the United Arab Emirates and Israel in early August, making it the first "Gulf Arab country to open relations with the Jewish nation."
In the Israel and UAE peace deal statement, the White House signaled the United States will be helping Israel continue to facilitate peace in the region with their largely Islamic neighbors.
"As a result of this diplomatic breakthrough and at the request of President Trump with the support of the United Arab Emirates, Israel will suspend declaring sovereignty over areas outlined in the President's Vision for Peace and focus its efforts now on expanding ties with other countries in the Arab and Muslim world."
Because of his efforts in facilitating peace in the Middle East, President Trump received two nominations for the Nobel Peace Prize.
White House Innovations Director Jared Kushner praised Trump for assisting in two previously "unthinkable" deals for the Middle East. He said the deal met much "optimism" on his most recent trip overseas.
"This makes America safer, allows us to bring our troops home, and allows us to work on bringing prosperity to American communities," Kushner said.
According to the joint statement, Israel Prime Minister Benjamin Netanyahu and Foreign Minister Abdullatif bin Rashid Al Zayani will sign the official "Declaration of Peace" on Sept. 15 at the White House.