Many agree that the United States is fortunate that the soaring Bald Eagle was chosen over the lowly Turkey, proposed by Benjamin Franklin, as its national bird. It is majestic, powerful, swift, and deadly. But now, it has also accidentally proven to be a capable anti-drone weapons system.- Advertisement –
Last month, a Bald Eagle engaged and defeated a Michigan state government drone flying over the Great Lakes. The drone the eagle took down was ironically operated by the Michigan Department of Environment, Great Lakes, and Energy (EGLE).
According to USA Today, the $950 drone was 162 feet above the waters of Lake Michigan mapping shoreline erosion when attacked by the Bald Eagle. The bird reportedly swooped in and ripped a propeller off the drone causing it to fall into lake 150 feet offshore.
Despite an exhaustive search, the downed drone was not found.
"The motive for the attack is currently unknown, though territorial disputes and hunger are the leading theories," reported USA Today, adding, "The drone team is considering ways to prevent future attacks, such as using designs that would make eagles less likely to mistake EGLE drones for seagulls."
In a tweet, Michigan State Representative Beau M. LaFave said this about the "Eagle vs EGLE combat":  Michigan Eagle takes on EGLE (Department of Environment Great Lakes and Energy) and wins. Bird can be heard singing "I fought the law, and I won"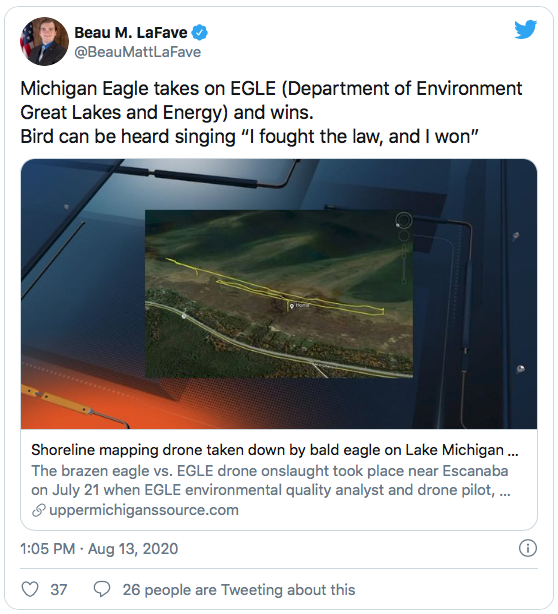 One major positive from this incident, noted USA Today, is that it highlights a "thriving eagle population. A 2019 U.S. Fish and Wildlife Service survey showed 849 active nesting sites in Michigan, up from a low point of 76 nesting sites in the 1970s."
Another takeaway is that the Bald Eagle may be able to serve as a natural counter-drone defense system. Perhaps DARPA, DOD and DHS are already secretly working on this.