Upgrading Our Military's Heavy Vertical Lift Capability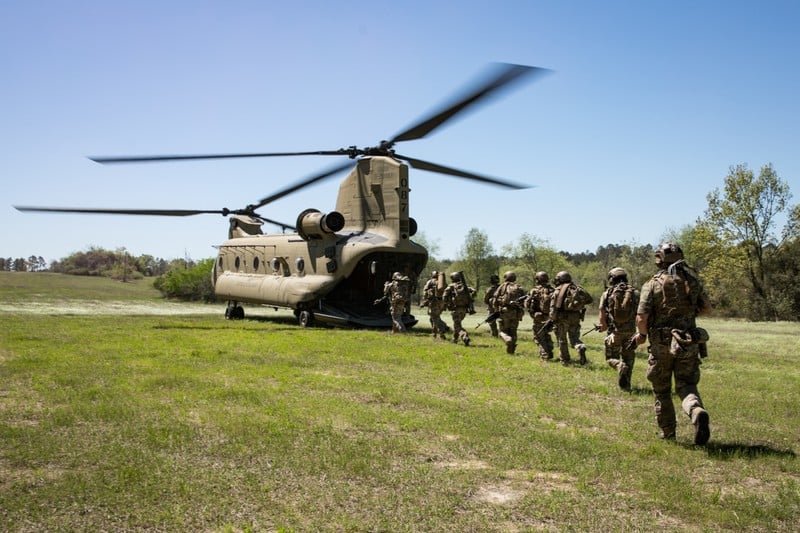 By George Landrith • RealClear Defense
It is time to upgrade our military's heavy-lift helicopter capabilities. The current workhorse, the CH-47 Chinook, has served our country since 1962. Despite its age, the Chinook is still the most capable heavy lift helicopter on the planet — flying at almost 200 miles per hour which is roughly the speed that the Army wants its next-generation Scout aircraft to fly. Our allies use the Chinook as well — precisely because of its utility and capability.

Over the years, the Chinook has been upgraded and new technology built in. As a result, our allies use the Chinook because it is a highly capable platform, and it is the world class heavy lift helicopter. However, the military's needs have grown, and additional capabilities are needed. The question is how to most effectively and efficiently meet those needs.

Given the Chinook's inherent strengths and capabilities, the wisest approach is to update and upgrade the Chinook so that it can increase payload, range, and other vital capabilities. With the right upgrades to the drivetrain, rotors, and other systems, this capable and proven aircraft will continue to be the world class heavy lift helicopter platform for decades to come. Following this approach means our heavy lift needs are amply met and at a much lower cost — which means we also have available resources for other crucial national security needs. That's a win-win.

However, recently, Army Secretary Mark Esper made remarks that suggested he wasn't interested in upgrades, but would instead start over from scratch. Sometimes starting over from scratch makes sense. But often it doesn't. This is one of those times where starting from scratch will waste taxpayer dollars and leave our military in a lurch while a brand new helicopter is developed and produced at a much higher initial cost and increased sustainment costs.

If the Pentagon starts over from scratch, the new helicopter fleet will not be available to our warfighters for another 30 to 40 years or longer. In contrast, an updated and upgraded Chinook is already in the works and can be rolled out relatively rapidly and at a much lower cost. This approach would give our military the world-class heavy lift helicopter it needs going well into the future, and it would save money so that other critical military needs are not neglected.

The Chinook can carry dozens of fully equipped infantry or special operators. It can transport 10 tons of supplies and equipment. It can even carry the new Joint Light Tactical Vehicle (which replaces the older up-armored Humvee and provides a more capable and survivable vehicle) or a 155m howitzer in a sling below the aircraft. Cost effective upgrades and updates can increase payload, range, and other important capabilities. All of these upgrades can be done at a fraction of the cost of simply starting over.

Special operators who fly the most dangerous and demanding missions in the Army swear by the Chinook and trust their lives in it. Even Espers, while signaling he wants to move on, admits that the Chinook "is a very good aircraft" and that it should continue to be used by our special operations forces. He even admits that perhaps the future is simply "a version of the [Chinook]. I don't know." Clearly, there's nothing fundamentally wrong with the Chinook as a platform. It is battle tested and battle proven.

The wise choice would be to update and upgrade the Chinook — that would give our warfighters the capability they need and do so in the most efficient way possible. That means other mission-critical tools required by our warfighters can also be afforded.

The truth is that the Chinook can continue to serve American warfighters with the right updates and upgrades. And these updates are already in the works. It would be foolish to shut that down and waste money by starting over. This doesn't require much imagination. With a new drivetrain, upgraded and redesigned rotors, and other new or upgraded systems, the lift capability, range and speed, can all be increased — even beyond its current world-class capability. This makes sense for the warfighter and the taxpayer. Esper would be wise to pursue the truth that even he admitted — our future heavy-lift helicopters "may be a version of [the Chinook.]"

In a world where the government needs to do more with less, upgrading the Chinook makes a lot of sense. This will give our warfighters the greater range, speed, and payload capacity that will be needed in the future. And while achieving all of these milestones, it will keep both production costs and sustainment costs lower. Ditching the Chinook and starting from scratch makes no sense at all — either for the warfighter or the taxpayer.
---