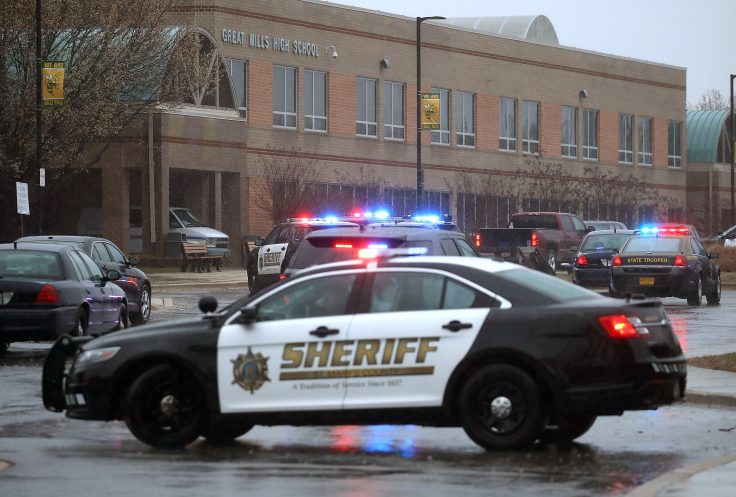 Maryland's Montgomery County became the latest Democrat-run jurisdiction to reverse its decision to remove police officers from schools after it suffered the first school shooting in the county's history last week, in which a 15-year-old boy was shot last Friday by a classmate.
The district announced on Monday after the shooting that police would temporarily return to every high school in the county, a reversal of a March 2021 decision by county lawmakers to yank funding from its longstanding School Resource Officer program. The lawmakers voted to replace in-school law enforcement with mental health resources, including 50 new social workers and 40 restorative justice training sessions in the county. The shift was designed to keep students "safe, holistically," according to Montgomery councilman Will Jawando.
But the mental health measures proved ineffective last Friday, when 17-year-old Steven Alston Jr. shot his classmate in a school bathroom at Magruder High School. Law enforcement wasn't notified about the shooting until the victim was discovered between class periods and brought to the school nurse. When police arrived at the school, they found the shooter in a classroom with his gun, which he had disassembled, and a magazine holding nine rounds of ammunition. The shooter's classmate remains in the hospital in critical condition.
"This was deeply felt across the entire system—and it was a wake up call on a number of different levels," Montgomery councilman Gabe Albornoz, a Democrat, told the Washington Free Beacon. "This was the first time there had been a gun incident where a gun was fired within a school during the school day in the history of our school system."
St. Mary's County sheriff Tim Cameron told the Free Beacon that his county's School Resource Officer program, virtually identical to the program Montgomery County scrapped, is an important component of safety and security in schools.
"The idea of the SRO is to prevent the event from ever happening—to stop the event before it actually occurs," Cameron said. "I can't say what would've happened, but I sure would have liked to have the opportunity for an SRO to have been in that school and perhaps prevented that."
Following anti-police protests that swept the country in response to the murder of George Floyd, Montgomery County and more than 50 school districts nationwide dumped police programs. Montgomery is not the first to realize the decision put students at risk.
Last fall lawmakers in Alexandria, Va., held an emergency session after a string of violent incidents at the start of the school year. The public school system voted to reinstate armed officers after a student brought a loaded gun into Alexandria City High School. And Milwaukee Public Schools unanimously blocked officers from patrolling campuses in June 2020—but in the first eight weeks of the following school year, administrators called police more than 200 times.
Clyde Boatwright, the president of Maryland's Fraternal Order of Police, told the Free Beacon that SROs are necessary to keep students safe. Without them, "gangs will be prevalent, assaults will be prevalent, and then there's going to be a rush to try to insert officers back in the building to stabilize the building."
"Just the mere presence of a police officer deters a lot of crime," Boatwright said.
Albornoz said now there is growing support in his county for reinstating the SRO program.
"​​There's no question that there's an interest, especially in the short-term, in having more police presence," Albornoz said. "And there are conversations going on right now in meetings being held between law enforcement, schools, health and human services, and key partners and stakeholders to determine whether or not there should be a police presence beyond just these two weeks as well."
Boatwright said activists pushing to remove police from schools are acting against the interest of the majority.
"The loud minority should not have a say that directly affects the greater majority of people who actually want safe schools," Boatwright said.