Wisconsin senator accused of cover-up of lack of action in Tomah VA scandal
by CJ Ciaramella     •     Washington Free Beacon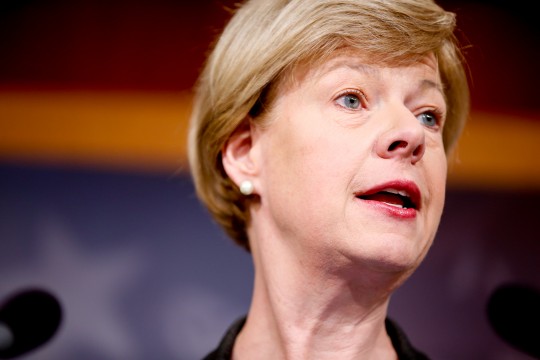 Calls are mounting for the Senate Select Committee on Ethics to investigate Sen. Tammy Baldwin (D., Wis.) for her alleged cover-up of her office's handling of a scandal at a Veterans Affairs hospital in Tomah, Wisconsin.
The watchdog group Foundation for Accountability and Civic Trust (FACT) sent a letter to the Senate Ethics Committee on Thursday calling on the committee to investigate two complaints filed against Baldwin this week regarding the Tomah affair.
"It appears that Senator Baldwin attempted to use taxpayer funds to hide information from those very taxpayers," FACT director Matthew Whitaker said in the letter. "It is this type of behavior that erodes public trust in our public officials, and reflects poorly on the Senate as a whole."
The Center for Investigative Reporting released a bombshell investigative report in January revealing that the Tomah VA facility was handing out strong narcotic painkillers with such frequency and ease that it was nicknamed "Candy Land" by veterans. One of those veterans died of an overdose last year while in the inpatient psychiatric ward.
Baldwin called for a federal investigation of the Tomah facility following the news story, but a VA whistleblower came forward in March revealing that Baldwin's office had received an Inspector General report last summer detailing the skyrocketing amount of painkiller prescriptions issued by the Tomah VA facility. The whistleblower had repeatedly emailed and called Baldwin's office asking her to bring attention to the problem, but to no avail.
On Monday, Baldwin's former deputy state director, Marquette Baylor, filed an ethics complaint against Baldwin alleging she was scapegoated for the office's lack of action, fired, and then offered a generous severance package in exchange for a confidentiality agreement.
"After the public outcry, Senator Baldwin immediately sought to place the blame squarely on me," Baylor says in her complaint, first reported by Wisconsin Watchdog. "[Baldwin] instructed her Chief of Staff, Bill Murat, to fly to Milwaukee, fire me, and offer me a severance package that required me to stay quiet. Murat then moved into damage control, meeting with individuals in Wisconsin and telling them that the inaction was my fault."
"When I rejected the severance package, Senator Baldwin revised her plan," the complaint continues. "She hired a high-powered law firm, paid that firm to prepare an internal report for her—at no point requesting to interview me or ask me questions—and used that report to further deflect blame toward me while protecting those truly at fault."
In an interview with the Washington Free Beacon, FACT director Whitaker, a former U.S. Attorney, called Baylor's complaint against Baldwin "very strong."
"If you look at fundamental facts, she publicly said one thing and privately tried to use taxpayer dollars to cover up and get confidentiality from Baylor," Whitaker said. "I hope and expect Senate Ethics will take this very seriously and understand that this is not only an ethics issue but a transparency and accountability issue. If they want us to continue to have faith in their process for ethics in the Senate, I'd hope they'd take it up."
Baldwin's office did not immediately return a request for comment. However, in a statement to the Milwaukee Journal-Sentinel earlier this week, a Baldwin spokesperson called Baylor's complaint a "political hit job."
The VA whistleblower, former Tomah employee Ryan Honi, told newds outlets he spoke with Baldwin for two hours about the problems at the facility in November, but Baldwin had urged him not to go public, fearing it would result in her and other staff getting fired.