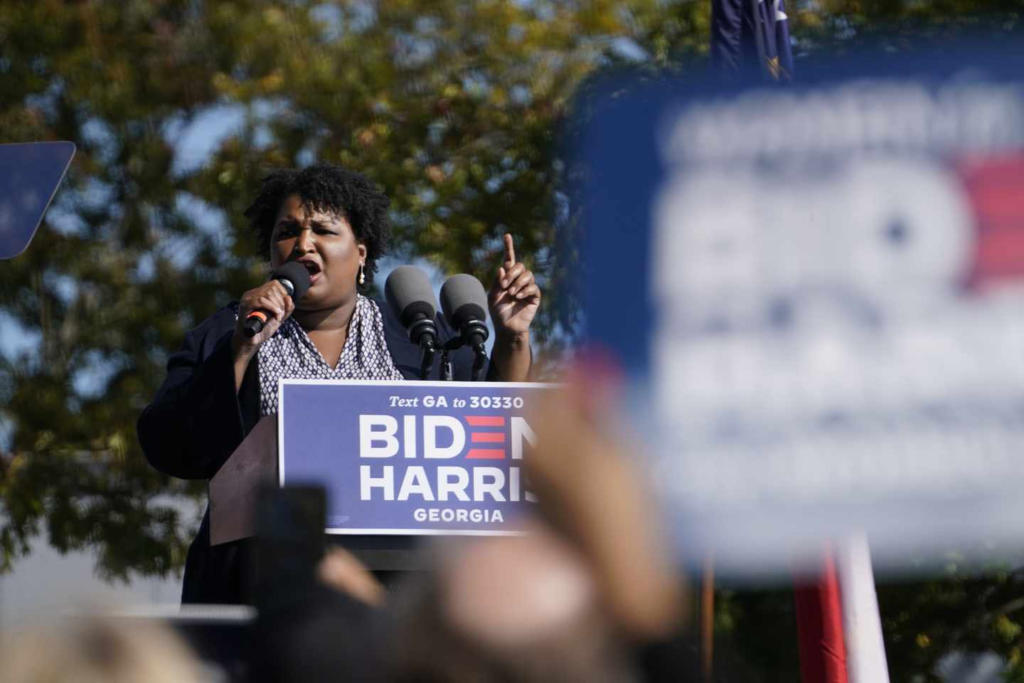 Stacey Abrams and I have a lot in common. We're both proud Southerners. We both hail from the only two states with schools that beat the Crimson Tide this season. We both think Joe Biden made the wrong VP pick. We both believe we won gubernatorial elections. Of course, only one of us is right on the last point — but as an Aggie, I respect the power of a healthy self-esteem.
We now have one more thing in common: We both skipped the Biden-Harris phony election-reform show in Atlanta. Not that I was invited: What would a three-term major-state governor who presided over historic expansion of voting (and minority-group participation in voting) know about elections, anyway? But Stacey Abrams was invited. And the fact that she didn't come tells you just how dead-on-arrival the White House's elections agenda actually is.
The motivation for Abrams's no-show is twofold. Not more than two years ago, she was openly campaigning to become Joe Biden's vice-presidential pick, transparently attempting to leverage liberal media into forcing him to pick her. It didn't work, and now she has an opportunity to return the snub. She's drawing with her an array of Georgia-based left-wing advocacy groups, who have declared that they too will refuse to attend the president and vice president's Atlanta event — on the grounds that the White House has been too slow, and too tentative, in advancing their agenda.
The second element to the absenteeism is the fact that the president, the vice president, and their elections agenda are profoundly unpopular in Georgia. Stacey Abrams is campaigning for governor there (again), and wants to win (she would say again to that too), and there's no compelling reason for her to tie herself to the negative-ratings deadweights that helm her national party.
Even without the officeholder unpopularity, the fact is that Georgians — like most Americans — are reasonably happy with their elections, and also reasonably happy with the post-2020 legislation that has addressed many of the process flaws exposed in that cycle. The fact that the Democrats and the progressives have talked themselves into an elections agenda that doubles down on those flaws, and introduces more uncertainty into the elections system, only highlights their disconnect from the lived reality of ordinary Americans.
(Another sign of that disconnect: trying to hold a political rally in Georgia on the very morning after the Dawgs broke a forty-one year national-championship drought. It's political malpractice on a level so appalling, it could only be exceeded by sending Paul Finebaum to Guantanamo. Now that I write that, I fear the vice president will convene a task force to make it happen.) 
Of course, they're also disconnected from one another. Joe Biden and Kamala Harris were also in Atlanta, Georgia to give the progressive base exactly what it has been demanding for years. The progressive base, instead of pocketing the small victory, is sabotaging the moment by staying away. We already knew this was a movement that doesn't have what it takes to govern — the president's disastrous 2021 was proof enough of that — and now we have evidence that it also doesn't have what it takes to win.
That's good news for Americans, in Georgia and beyond. Even though the president and vice president are in Atlanta advocating for a truly terrible agenda, that agenda isn't going to happen. They can't lead their own movement. But even if they could, Americans want nothing to do with it. When you've constructed a political fantasy too far out even for Stacey Abrams, you know it's time to pack it in.