By Katie Pavlich     •     The Hill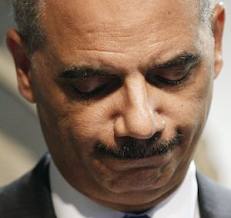 On Wednesday, Loretta Lynch, the U.S. attorney for the Eastern District of New York, will raise her right hand in front of the Senate Judiciary Committee and swear to tell the whole truth to lawmakers during her nomination hearing for attorney general of the United States.
Following in the footsteps of Attorney General Eric Holder, Lynch will be forced to tackle a series of complicated, corrupt and highly controversial topics when she takes her seat on Capitol Hill. She will have to make her own case about how to clean up the highly politicized, and often toxic, Department of Justice.
Now that Republicans are in charge of the Senate, Judiciary Chairman Chuck Grassley (R-Iowa) has the subpoena power he needs to dig deeper into scandals ignored by Sen. Harry Reid (D-Nev.) and the previous Democratic leadership — and you can bet he's planning on getting answers to unanswered questions.
On IRS targeting: First, Lynch will have to answer for the Justice Department's role in helping the IRS inappropriately target conservative and Tea Party groups from 2010 to 2013. Lois Lerner, former head of tax-exempt groups at the IRS, was in direct contact with at least one DOJ official who wanted to make an example out of groups disagreeable to President Obama's policies. Americans have a right to should know why.
Last April, government watchdog Judicial Watch obtained emails showing Lerner detailing a phone call she had with DOJ Elections Crimes Branch Director Richard Pilger, who was interested in criminally prosecuting tax-exempt (conservative) groups for "lying" about political activity. Not only will Grassley want more details about the DOJ's role in the targeting scandal, but new Senate Majority Leader Mitch McConnell (R-Ky.) has already vowed to get to the bottom of the unwarranted extra scrutiny.
On 'Operation Fast and Furious': For years Grassley has led his own investigation into the DOJ's decision to arm Mexican narco-terrorists with high-powered weapons, resulting in the brutal murders of hundreds of Mexican citizens and at least two U.S. federal law enforcement officers, Border Patrol Agent Brian Terry and Immigration and Customs Enforcement Officer Jaime Zapata. In fact, Grassley was the first lawmaker on Capitol Hill to press the department over the gun-running scandal, which high-ranking DOJ officials repeatedly lied about to Congress through letters and testimony. There has been little accountability for the operation, and Lynch will certainly be asked if she plans to obtain any for officials from the DOJ and Bureau of Alcohol, Tobacco, Firearms and Explosives (ATF) who were involved.
On rebuilding trust with law enforcement: Throughout the past year we've seen Holder take an abrasive approach to incidents involving white police officers and young black men. In particular, we saw him turn the Michael Brown story into a national race case, despite zero evidence of racial bias.
As a result, the little trust left between law enforcement and the DOJ was completely destroyed; Lynch will be asked to provide details about how she plans to rebuild that soured relationship if she becomes the next attorney general.
"It is my sincere hope that Ms. Lynch, if confirmed, will take immediate steps to begin repairing the rift created between the Obama Administration and the dedicated men and women of America's law enforcement community. The mere replacement of the attorney general is not enough. President Obama should demonstrate a recommitment to the rule of law and a retreat from words and actions that signal a distrust of our law enforcement professionals," Ron Hosko, president of the Law Enforcement Legal Defense Fund, recently said in a statement. "We look forward to Loretta Lynch's confirmation hearings to become the attorney general, but there's no time to rejoice — significant damage has been done and there is much work ahead to undo it."
On DOJ attorneys defrauding the court: Lastly, an issue that certainly needs to be addressed during Lynch's hearing are recent revelations that DOJ attorneys defrauded a federal court and intimidated a witness in Dobyns v. USA. The short version of this case is this: Years ago, former ATF agent and whistle-blower Jay Dobyns received serious death threats after working undercover in the notoriously violent Hells Angels biker gang. ATF supervisors failed to protect him and his family, and when his house was burned to the ground in 2008, the same supervisors tried to frame him for the arson. After a six-year lawsuit, U.S. District Judge Francis M. Allegra ruled in Dobyns's favor and granted him $173,000 in damages. A few short months after issuing his opinion, Allegra voided his ruling, and has alleged DOJ attorneys working on behalf of the government defrauded the court, intimidated a federal witness during trial and is still intimidating Dobyns's attorney, Jim Reed.
The DOJ Office of Professional Responsibility has received a number of inquires related to DOJ attorney misconduct during the case and has ordered depositions of the attorneys involved. Overall, DOJ leaders are standing by the attorneys accused of wrongdoing, saying they are outstanding civil servants. Lynch would do well to open up an investigation of her own into their potentially criminal behavior, which has been thoroughly documented by a federal judge.
During her confirmation hearing this week, Lynch has a chance to prove she believes in the rule of law on a number of different topics. We'll find out today where exactly she stands.
Pavlich is the news editor for Townhall.com and a Fox News contributor.