Little Rock, Ark. (AP)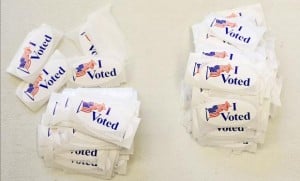 – A Democratic state legislator from east Arkansas, his father and two campaign workers pleaded guilty Wednesday to conspiracy to commit election fraud after federal prosecutors said the lawmaker's campaign bribed absentee voters and destroyed ballots in a special election last year.
Prosecutors said Democratic Rep. Hudson Hallum of Marion, Kent Hallum, Phillip Wayne Carter and Sam Malone acknowledged that they participated in a conspiracy to bribe voters to influence absentee votes in the Arkansas District 54 primary, runoff and general elections in 2011. The four were released pending a sentencing hearing.
"In a nation in which every person's vote matters, protecting the integrity of the electoral process from those who seek to win office by cheating the system is critical," Assistant U.S. Attorney Jane Duke said in a statement released by her office. "Voter fraud schemes such as that carried out in the 2011 District 54 race have the devastating effect of eroding public confidence in elected officials and disenfranchising voters."
A Democratic Party spokeswoman said Hallum indicated he would step down from his seat, but Gov. Mike Beebe had not received a formal resignation by Wednesday afternoon.
Hallum didn't respond to phone messages from The Associated Press seeking comment, and House Speaker Robert Moore said he has not heard from the lawmaker. But in an email sent to other Democratic legislators, Hallum apologized for his actions.
"I took some bad advice that led to some bad decisions on my part. I am going to stand up and accept full responsibility for my actions," Hallum wrote. "I am truly sorry because I know this news will have an effect on everyone's upcoming race."
Prosecutors said Hallum and his father, Kent, tasked Carter and Malone with obtaining absentee ballot applications for certain voters and assisting voters in filling out the ballots, "actually completing absentee ballots in some instances without regard to the voter's actual candidate choice."
The ballots were typically placed in unsealed envelopes before being mailed to local election officials.
"If a ballot contained a vote for Hudson Hallum's opponent, it was destroyed," prosecutors said in a bill of information filed with the court.
Prosecutors also accused the four of offering money and food to absentee voters in exchange for their support.
At one point, prosecutors said, Hallum told Carter: "We need to use that black limo and buy a couple cases of some cheap vodka and whiskey to get people to vote."
Hallum won the east Arkansas seat in a special election last year following the resignation of Rep. Fred Smith, who stepped down after he was found guilty of felony theft of property delivered by mistake. A judge later dismissed the theft case, but Smith was blocked from running in the Democratic primary against Hallum for his old seat because he had a conviction at the time he filed.
Smith is now running as the Green Party nominee for the seat. No Republican is running.
Hallum's guilty plea comes as Democrats in Arkansas are struggling to keep the Legislature from falling to Republicans for the first time since Reconstruction. Party leaders were quick to condemn Hallum's actions Wednesday afternoon.
"The sanctity of our elections and the rights of voters to see that every vote is counted fairly and responsibly are some of the basic, fundamental liberties of our democracy. No threat to those liberties can or should be endured," Party spokeswoman Candace Martin said. "Hudson Hallum is taking responsibility for his actions and we hope that will help resolve things in a way to see that such activities will never be tolerated."
Republicans said the case pointed to long-running voter fraud problems in the state.
"The voters' constitutionally guaranteed right to a fair election was stolen by an Arkansas Democrat who was more concerned with winning than upholding the public trust and being a true public servant," state GOP Chairman Doyle Webb said. "This is corruption that a two party system will end."
Prosecutors said in the charging documents that the four tried to conceal the absentee voter fraud by using rental cars when collecting ballots and using coded language such as "gold tokens," "duct work" and "watermelons" when referring to the absentee ballots.
Sentencing hearings will be held later for the four. The maximum penalty for the conspiracy charge is five years in prison plus a potential fine of $250,000.
Malone resigned his job as a West Memphis police officer, but did not know if he would resign from the Crittenden County Quorum Court or the West Memphis school board, attorney Blake Hendrix said. There was no answer at a number listed for Carter, a West Memphis City Councilman.
Hallum's name will remain on the ballot, but if he wins in November after resigning, a special election will have to be called for the seat, a spokesman for the secretary of state's office said. A court could order election officials to not count any votes cast for Hallum.