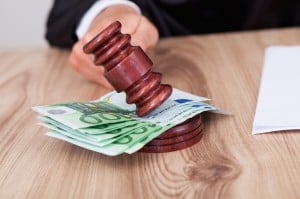 By Shawn Macomber
Ever wonder why the official International Criminal Court logo has a set of scales but no equivalent of the blindfolded "Lady Justice"? Kim Jong-un doesn't — he and the rest of the fanatical gangsters running the nationwide gulag that is now the hermit kingdom understand they will get a free pass from rent-seeking internationalists who are more interested in the power and prestige of the Court than any unbiased pursuit of justice.
North Korea said on Monday it is not worried about a threat to refer the country to the International Criminal Court for crimes against humanity, because it is not guilty and wants to attend a U.S. meeting on its rights situation to defend itself.

The United Nations General Assembly urged the U.N. Security Council in December to consider referring North Korea to the ICC after a U.N. inquiry detailed wide-ranging abuses in the hermit Asian state comparable to Nazi-era atrocities.

"We are not worried at all because at every move we can strongly respond to such a move and we are not guilty of any crime," North Korea's U.N. ambassador, Jang Il Hun, told a news conference at the country's mission to the United Nations.

"We totally reject and categorically deny all those claims," he said.

China, a strong ally of Pyongyang, is likely to veto any Security Council bid to refer North Korea to the ICC, diplomats say.
Emphasis added.
There are, of course, very good reasons for the United States to not play these games.