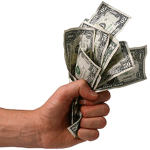 By Elad Hakim • The Federalist
If they charge President Trump for paying women to not publish scandalous claims, would prosecutors then be compelled to pursue members of Congress who have also made such payoffs?
Michael Cohen was sentenced to 36 months in prison on Wednesday for various crimes the Robert Mueller investigation found he had committed. As CNN recently reported, prosecutors from the Manhattan U.S. attorney's office alleged he admitted to paying off two women (hush money) and that he did so in coordination with and at the direction of President Trump, thereby violating one or more campaign finance laws.
On the day of Cohen's sentencing, the Gateway Pundit reported that prosecutors for the Southern District of New York announced that they had reached a non-prosecution agreement with American Media, Inc., the company that paid $150,000 to one of the women. Continue reading →
---