The IRS's illegal actions — and its efforts at cover-up — undermine the foundations of our government.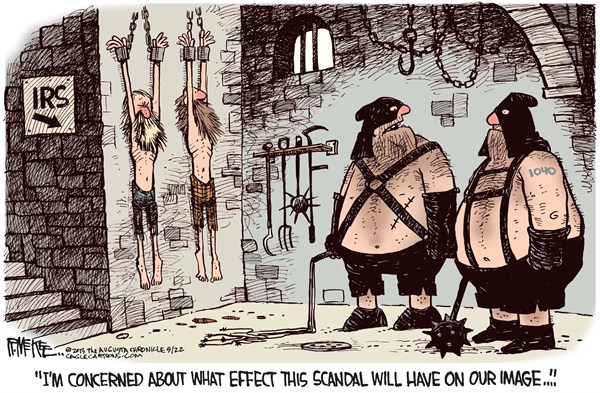 by Kevin D. Williamson
I will confess to a little despair over the relatively mild reception that has greeted the evidence, now conclusive and irrefutable, that the Internal Revenue Service, under the direction of senior leaders affiliated with the Democratic party, was used as a political weapon from at least 2010 through the 2012 election. It may be that the American public simply does not care about the issue; it is always difficult, if not impossible, to predict what issues will seize the electorate's attention, or to understand why after the fact. It may be that the public does not understand the issue, in which case a brief explanation of the known facts may be of some use.
Here is what happened. In the run-up to the 2012 election, senior IRS executives including Lois Lerner, then the head of the IRS branch that oversees the activities of tax-exempt nonprofit groups, began singling out conservative-leaning organizations for extra attention, invasive investigations, and legal harassment. The IRS did not target groups that they believed might be violating the rules governing tax-exempt organizations; rather, as e-mails from the agency document, the IRS targeted these conservative groups categorically, regardless of whether there was any evidence that they were not in compliance with the relevant regulations. Simply having the words "tea party," "patriot," or "9/12" (a reference to one of Glenn Beck's many channels of activism) in the name was enough. Also targeted were groups dedicated to issues such as taxes, spending, debt, and, perhaps most worrisome, those that were simply "critical of the how the country is being run." Organizations also were targeted based on the identity of their donors. Their applications were delayed, their managements harassed, and the IRS demanded that they answer wildly inappropriate questions, such as the content of their prayers. Continue reading →
---