By George Landrith • Newsmax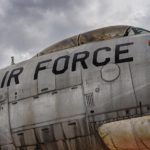 The U.S. Air Force just changed the game when it comes to global air mobility by signing off on first delivery for Boeing's KC-46A Pegasus aerial refueling tanker. The first KC-46 Pegasus Tankers will begin arriving at McConnell Air Force Base in Kansas in the coming weeks, where Airmen will begin training for their future mission.
The success and safety of our military forces responding to constantly evolving threats and crises around the world relies on our Air Force's global reach, giving us the ability to hit targets and deliver troops and supplies anywhere in the world. Our global reach and that of our allies would not be possible without America's superior air refueling capability — a capability that is limited and jeopardized by our current fleet of Eisenhower-era tankers.
The aerial refueling tankers our Air Force operates now are mostly KC-135s that date back a half-century. The fleet's last real update was the KC-10 procurement over thirty years ago. These aircraft face serious limitations in responding to modern threats. Continue reading →
---