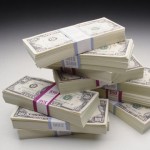 By Adam Mill • The Federalist
Recently, Jesse Kelly wrote a worthy article forecasting the United States' decline and eventual suffocation in the quicksand of socialism. He correctly notes that as government gets bigger, freedom must get smaller.
Kelly clearly fears a socialist America will follow the failures of Greece, Venezuela, and every other country that has followed a welfare state model to its logical conclusion. While he is absolutely right that economic failure and socialism are inexorably related, he is not correct that the United States is on an unstoppable path to this oblivion.
Take cheer, Kelly: we have reason to be optimistic as a result of President Trump's brief but dazzling experiment with cutting taxes and regulation. While government is growing, it's not growing fast enough to crowd-out all freedom. One byproduct of the Trump boom is that economic growth is actually outpacing growth in government spending. The government's share of gross domestic product has fallen to Continue reading →
---