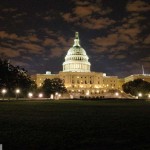 There's no question that Democrats had a good night on Tuesday. But it was nowhere near what the resistance crowd had hoped. The question now is: Can the party resist its angry base demanding retribution, or try to act like adults and get things done?
When it comes to wave elections, this one wasn't. Not by a long shot.
In 1994 — two years into Bill Clinton's first term — Republicans gained a stunning 54 seats to take control of the House, and 9 to take control of the Senate.
Then, in 2010 — two years into Barack Obama's first term — Republicans gained an even more stunning 63 seats in the House, and six in the Senate, in another stunning rebuke of a Democratic president. Continue reading →
---