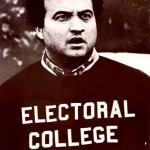 The presidential electors have a constitutional duty to vote for the person best-suited to be president, regardless of whether that person is Donald Trump.
By James Heaney • The Federalist
On November 8, Americans cast their votes, and Hillary Clinton won more of them. In most democracies, that would make her the winner—and the next president. But she isn't.
This was not a stolen election. It is not an error in our system. This is by design.
America's Founding Fathers were too wise to establish a national popular vote for the highest office in the land. Instead, they created an Electoral College. It spreads the power to elect the president across the country, with every state getting a certain number of votes, usually winner-take-all. This system means any would-be president has to win support from a broad coalition that encompasses many diverse states. Continue reading →
---