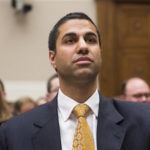 by Elizabeth Harrington • Washington Free Beacon
Ajit Pai will serve as chairman of the Federal Communications Commission after his appointment by President Donald Trump on Monday.
Pai has been an outspoken defender of free speech and freedom of the press, as he's worked to expose the FCC's politicization since he joined the agency in 2012.
Pai gained notice in 2014 when he exposed the FCC's plan to "police the newsroom" through a study that would have sent government-backed researchers into nearly 300 newsrooms to learn how they decide which stories to run.
Pai believes in free markets and less regulation and has promised to "fire up the weed whacker" against net neutrality rules finalized under the Obama administration. Continue reading →
---