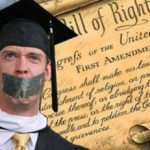 by Grace Carr • The Daily Caller
An Iowa college's student government rejected a conservative club's application to operate because the organization allegedly didn't conform to the school's mission.
After Wartburg College's prospective Turning Point USA (TPUSA) chapter applied for official club status, the group was denied the right to operate on campus. Founded in 2012, TPUSA is a non-profit organization that seeks to identify, educate, train, and organize students to promote the principles of fiscal responsibility, free markets, and limited government, according to the national group's website.
"The Student Senate body were concerned that the values of Turning Point, as evidenced by expressed tactics, were not in line with the values of Wartburg College," Daniel Kittle said, reported Campus Reform on Friday.
Kittle wrote in an email to members of the club that he would be happy to work with students to advance a "new student organization that supports their agenda to increase conservative dialogue."
---