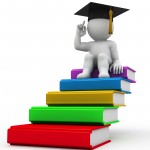 By Vicki Alger • The Federalist
A new report raises questions about how the U.S. Department of Education monitors the performance of its wide-ranging elementary and secondary education programs.
The department currently receives $38 billion for its major K-12 education programs. Yet the assessment says those programs are plagued by "complex and persistent" challenges, many of which have been identified previously, according to the U.S. Government Accountability Office (GAO), the official "congressional watchdog" charged with ensuring taxpayer dollars are spent efficiently.
Specifically, the GAO identified four key shortcomings in the department: oversight and monitoring, data quality, capacity, and evaluation methodologies. As the GAO makes clear, it is not the only oversight agency raising concerns about the department's program management. What's more, such problems have plagued our federal education departments since the first one took form back in 1867. Continue reading →
---