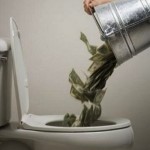 By Wayne Winegarden • Investor's Business Daily
Gov. Jerry Brown and some California lawmakers are pushing Golden State drivers to the fast lane of an all-electric car future.
For example, San Francisco Democrat Phil Ting has introduced legislation to outlaw the sale of traditional gas-powered cars by the year 2040. My colleague Kerry Jackson has called this idea "a farce worthy of The Onion."
But is there really a sufficient demand and marketplace to make an all-electric car future on the horizon a realistic possibility? Not if you look at sales trends. According to the most recent figures, non-hybrid electric cars are just 0.5% of the car market.
To artificially stimulate demand, lawmakers in Washington D.C., California, and many states are trying to play car salesman. They have offered lavish subsidies — paid for by Continue reading →
---