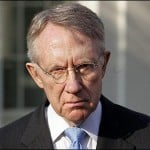 by Chris Cillizza • Washington Post
One of the strangest incidents of the 2012 presidential campaign was when then-Senate Majority Leader Harry M. Reid accused then-Republican presidential nominee Mitt Romney of having not paid any taxes over the past decade. That Reid made that allegation from the floor of the Senate made it even odder.
The problem with Reid's allegation? It's just not true. We know that, at least in 2011 and 2010, Romney did pay taxes. How do we know that? Because Romney released his tax returns for those years. In 2011, Romney paid $1.9 million in taxes; in 2010, he paid slightly more than $3 million in taxes.
Our own Fact Checker gave Reid Four Pinocchios for his "no taxes" claim. PolitiFact gave the claim a "Pants on Fire" rating. Continue reading →
---