Craven American leadership harms the cause of peace and stability, and only benefits the world's dictators and aggressors.
by George C. Landrith & Dr. Miklos K. Radvanyi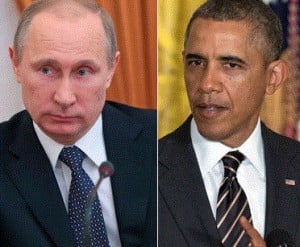 Vladimir Putin is a gambler. He has a weak hand. But he will bluff, pretending that he holds a good hand, until someone in power calls him on the ruse. While President Barack Obama's hand is not weak, he behaves as if he holds no cards at all. Thus, Obama plays into the hands of Putin who is pleased at his good fortune to have an anemic and spineless American president unwilling to call Putin's bluff or reveal his untenable position.
Putin's willingness to bluff despite his weak hand is at least in the long run quite risky. But given Obama's consistent and demonstrated weakness, why would Putin do anything else?
Putin is devoid of sentimentality. He is pragmatic in the extreme. Some say he longs for the days of Soviet power and prestige. No doubt power and prestige are of interest to a vain and ambitious poser like Putin. But his main objective is to rescue his rule at home by diverting attention from the near bankrupt Russian economy. By giving his countrymen the impression that he is restoring "Russia's greatness" abroad, he hopes to neutralize the total failure of his economic policies and the financial pain that Russia is experiencing. Continue reading →
---