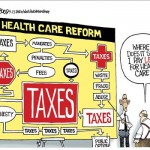 by Ali Meyer • The Free Beacon
Waiting times for medically necessary health care services under Canada's single-payer system have hit a record high, according to a report from the Fraser Institute.
Sen. Bernie Sanders (I., Vt.) has touted Canada's single-payer system, saying it is a model the United States should follow. He introduced a "Medicare for All" plan this past September.
"The issue that has got to be studied is how does it happen that here in Canada they provide quality care to all people, and I don't think there is any debate that the quality of care here is as good or better than the United States, and they do it for half the cost," Sanders said.
Sen. Elizabeth Warren (D., Mass.) cosponsored Sanders's bill, saying she believes the measure will bring high-quality and low-cost care to Americans. Sen. Kirsten Gillibrand (D., N.Y.) wrote a provision in Sanders's bill allowing Americans to buy into a public plan during the transition to single-payer.
The Fraser Institute found that patients under Canada's single-payer system this year waited an average of 10.9 weeks—roughly two-and-a-half months—from the time they had a consultation with a specialist to the time at which they received treatment. Physicians consider 7.2 weeks to be a clinically reasonable wait time. Continue reading →
---