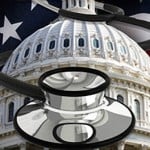 By Christopher Jacobs • The Federalist
Now they tell us! A Gallup poll, conducted last month to coincide with the midterm elections and released on Tuesday, demonstrated what I had posited for much of the summer: Individuals care more about rising health insurance premiums than coverage of pre-existing condition protections.
Of course, liberal think tanks and the media had no interest in promoting this narrative, posing misleading and one-sided polling questions to conclude that individuals liked Obamacare's pre-existing condition "protections," without simultaneously asking whether people liked the cost of those provisions.
Overwhelming Concern about Premiums
The Gallup survey asked the public whether it viewed each of four scenarios as a major concern for them. Among those: "Your health insurance plan will require you to pay higher premiums or a greater portion of medical expenses," and "you or someone in your immediate family will be denied health insurance coverage for a pre-existing medical condition." Continue reading →
---