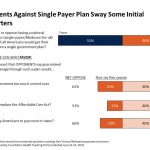 By Jim Geraghty • National Review
I'm headed up to New York City today, appearing on CNN to discuss Senator Bernie Sanders' latest proposal for "single-payer" health care and on CNN International to discuss – well, something, possibly the Sanders proposal, perhaps something else.
The coverage of health care rarely suggests that public support for single payer is a mile wide but an inch deep. But this Kaiser poll from July is usefully illustrative. It found that a majority (55 percent) supports "single-payer," but when respondents hear the argument that it would give the government "too much control," then 61 percent oppose it.
When you mention the tax increases, 60 percent oppose single-payer. This concept does not enjoy ironclad support from the masses. Continue reading →
---