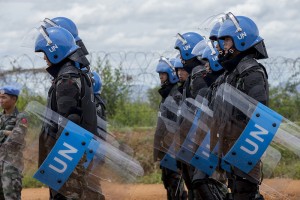 By Shawn Macomber • Lawfare Tyranny
So all this week the Guardian is celebrating "the United Nations' vital agencies and associated bodies" and while our friends at the International Criminal Court managed to land the No. 2 slot on the publication's "best bit of the UN" list, the write up exudes more of a participation medal vibe than anything else.
Alas, the Court doesn't get out of the opening sentence — never mind the first paragraph! — without a fairly serious black eye:
The international criminal court (ICC), created under UN security council auspices in 2002, has been the subject of political controversy throughout its short history and has been criticised over its perceived bias against Africa. The court, based in The Hague, has also been attacked over its limited number of successful prosecutions – two convictions, both of Congolese warlords, in 13 years – and over the cost of its operations, estimated at $1bn.
These are points we've hammered away at in this space, of course, but the context of the criticism — i.e. a supposed celebration of the Court's existence and mission — is jarring.
Naturally, the next graph attempts to offer something of a defense…
But supporters say the court has laboured under serious handicaps from its inception. Powerful international actors, such as the US, China and Russia, are not state parties to the treaty of Rome, which established the legal basis for the court in 1998. They continue to reject its jurisdiction over their territory and citizens.
…which actually reveal a feature not a bug of how the West views the utility and role of this rent-seeking aspiring transnational behemoth.
More:
The court has also been thwarted by the refusal of some member countries to follow its injunctions. The most recent instance was South Africa's decision not to detain Omar al-Bashir, Sudan's president, who was visiting the country and is wanted by the ICC for genocide and other crimes.
Yes, well…that is not as simple as it seems.
The essay then segues into a Uh, duh section on the West's do as we say, not as we do approach to international law policy before wrapping up with the following indictment:
The ICC prosecutor's office has launched nine official investigations since 2002, all in Africa – in the Democratic Republic of the Congo, Uganda, Central African Republic (two), Libya, Kenya, Darfur (Sudan), Ivory Coast and Mali. It has indicted 36 individuals including Sudan's Bashir, Kenya's President Uhuru Kenyatta, and the former Ivory Coast president Laurent Gbagbo. The Kenyatta case fell through. Only Gbagbo is certain to face trial, in November this year. Even here, claims that the ICC has mishandled the case have cast doubt on the prosecution's prospects.
Like the title says, with friends like these…
(Photo via official UN flick'r page)