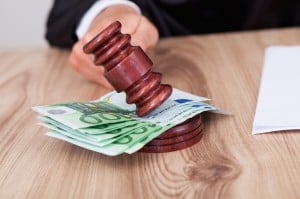 By Shawn Macomber  •  Lawfare Tyranny
We've noted previously the hammer-of-international-justice-for-thee-but-not-for-me phenomenon that seems to go hand in hand with pleas for International Criminal Court intervention, and this week has provided no exception to the rule.
First, via PressTV ("the first Iranian international news network, broadcasting in English on a round-the-clock basis"), comes this nugget:
At a Wednesday summit with high-ranking judiciary officials in Tehran, Ayatollah Sadeq Amoli Larijani voiced regret over the bombardment of the impoverished country, saying the monarchy's measures inside Yemen amount to war crimes according to the Rome Statute of the International Criminal Court.

"The Saudi regime's officials should be prosecuted at the International Criminal Court like Nazi criminals," he said.
And yet curiously Iran has chosen not to ratify the Rome Statute and join the ranks of these supposed neo-Nazi slayers at the Hague!
Indeed, as legal advisor to the president of the ICC Hirad Abtahi notes, the Islamic Republic "has an ambivalent position towards the statute of the ICC, ranging from enthusiastic support to open skepticism" — a seesawing which seems to hew pretty closely to whether the Court is at that moment pursuing friend or foe.
Meanwhile in Kenya, Deputy President William Ruto was "the only top government official and political leader in this country who was excluded from meeting with US Secretary of State John Kerry."
Ruto, according to diplomatic sources, is also unlikely to meet US President Barack Obama when he visits the the homeland of his late father, due to the crimes against humanity charges facing him at the International Criminal Court…

While the President met Kerry on Monday, Ruto was at the Intercontinental Hotel, Nairobi, officiating a World Press Freedom Day event.
There's also this nugget in the report:
Ironically, it was the DP who received former US President Bill Clinton and his daughter Chelsea on Friday last week at JKIA.
Classic Clintonian triangulation!
But you want know what is really ironic? That the Obama administration, which is so goofily in love with its own global cosmopolitanism and has shown not one iota of interest in placing itself — and U.S. troops, which the ICC enjoys circling to satiate its clientele — under the auspices of that Court, will bray so openly about punishing others for falling into ICC crosshairs:
Ahead of Kenya's 2013 presidential election, the Western world powers sent out strong signals against electing two suspects who faced trial in real time at the ICC and warned it would have "consequences" for the country internationally.

"Choices have consequences," the then US Assistant Secretary of State for Africa Johnnie Carson said.
Here's one thing the Iranian and U.S. governments seem to agree upon: What's good for the goose is not good for the gander when it comes to the International Criminal Court.