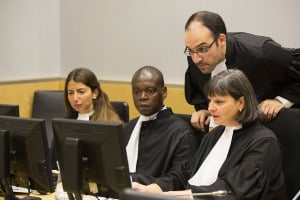 By Shawn Macomber  •  Lawfare Tyranny
A few weeks ago we noted the International Criminal Court had reaffirmed its commitment to fail women, but it seems the aspiring transnational behemoth continues to up its game in that arena.
It is symptomatic of the low profile kept by the International Criminal Court (ICC) that even what might be regarded as a landmark event and a positive one too for women — the election of the first female president in its troubled 12-year history — passed with hardly a murmur.
[Google of "international criminal court" + "first female president" pulls up 5800 results — ed.]
As Judge Sang-Hyun Song (73) of South Korea stepped down earlier this month after six years in the job, he was replaced, not by another man in an institution where male judges outnumber females by 11 to six, but by Judge Silvia Fernandez de Gurmendi (61) of Argentina.

The election of Judge Fernandez "marks a significant step forward for the proper representation of women in the top ranks of international justice", according to Dr. Kelly Askin of the Open Society Justice Initiative.
And what, precisely, have women now achieved "proper representation" in?
With the ICC regularly lambasted as too slow and expensive, with links to the UN Security Council that have arguably "politicised the pursuit of international justice", as Dr Askin puts it, the new president has all the leadership qualities needed to help it leave those "awkward growing pains" behind.
Here is how David Davenport memorably described those "growing pains" in Forbes last year:
The obvious question few seem to be asking is whether the I.C.C. is simply too expensive and inefficient to justify. Originally designed to make certain that war crimes, genocide and crimes against humanity were not ignored, the Court is supposed to achieve a sufficiently robust presence that it contributes "to the prevention of such crime." To that end, it has 34 judges, over 700 staff, and an annual budget of $166 million. They say you can't put a price on justice but $500 million per warlord conviction seems high by any standard. And what do 34 judges do all day? You don't  have to be a legal expert to figure that the preventive effect of convicting 2 warlords in 12 years doesn't exactly leave international war criminals shaking in their boots.
Racist, selective prosecution carries a high price tag, apparently…
More Irish Times:
If she is correct, there has never been a better time for women to make their mark at the ICC. Not just its presidency but four of its most influential legal positions are now held by women.

Judge Fernandez's two new female vice- presidents, also appointed for three-year terms, are Judge Joyce Aluoch of Kenya and Judge Kuniko Ozaki of Japan, while chief prosecutor Fatou Bensouda emerged from the shadow of her flamboyant male predecessor, Luis Moreno-Ocampo, in 2012.
Then again, what's more flamboyant than a gender-neutral belief that heading the ICC means never having to say you're sorry?

[Photo: ICC Flickr]