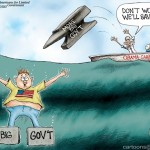 by Scott Lloyd • The Federalist
We remember the refrain from the run-up to Obamacare that 40 million Americans are without insurance, and we now have its echo in the Congressional Budget Office report that its repeal could lead to 18 million uninsured. Both of these figures are irrelevant.
If I have a broken leg, as a wounded person I want treatment that will heal it, and I don't want it to ruin me financially. If I can get affordable care without health insurance, what difference is it to me that I have insurance? Similarly, if I have health insurance and the leg doesn't get healed, or I am financially ruined, or both, what good is health insurance to me?
When discussing Obamacare replacements, we make a mistake when we focus too much on health insurance. Americans need health care. Universal health care could happen for every American in any number of ways that do not involve universal health insurance and all of the problems that it entails. Continue reading →
---