By Investor's Business Daily • Investor's Business Daily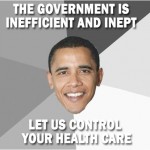 Aetna's decision to abandon its ObamaCare expansion plans and rethink its participation altogether came as a surprise to many. It shouldn't have. Everything that's happened now was predicted by the law's critics years ago.
Aetna CEO Mark Bertolini said that this was supposed to be a break-even year for its ObamaCare business. Instead, the company has already lost $200 million, which it expect that to hit $320 million before the year it out. He said the company was abandoning plans to expand into five other states and is reviewing whether to stay in the 15 states where Aetna (AET) current sells ObamaCare plans.
Aetna's announcement follows UnitedHealth Group's (UNH) decision to leave most ObamaCare markets, Humana's (HUM) decision to drop out of some, Blue Cross Blue Shield's announcement that it was quitting the individual market in Minnesota, Continue reading →
---