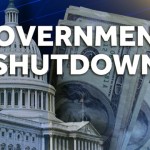 The media and the left are playing up the economic damage from the shutdown. No doubt, there will be some disruption. But it won't be economic armageddon, not by a long shot.
Fears of shutdowns at airports and national parks have been prominent in media coverage. No doubt, some will be inconvenienced.
But will it lead to an economic meltdown, as some have suggested? Not likely.
Let's start with a few facts. Shutdowns have occurred before, most recently in 1995 and 1996, and in 2013. In each case, these relatively short shutdowns had minimal economic impacts. Continue reading →
---