By George Landrith • Townhall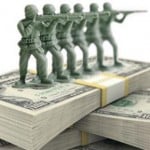 While Puerto Rico is still recovering from last year's severe hurricane damage, the all too predictable push to blame the tragedy on the Jones Act appears to have passed — for now. But almost like clockwork, this false blame game will be replayed whenever opponents of the Jones Act think they can spread falsehood during times of tragedy to gain a political advantage. When that next moment comes, the tired, oft-repeated, and baseless arguments will be trotted out once again.
The Jones Act, or more precisely, the "Merchant Marine Act of 1920," simply requires goods shipped between U.S. ports to be shipped on American vessels crewed by Americans. It does not limit foreign vessels from bringing goods to US ports. It only prevents foreign ships from carrying cargo between two or more US ports. This has a number of homeland security benefits as well as ensuring that our military has a robust merchant marine sea lift capability and ship repair industry.
Some may assume that Americans are burned out on debating the Jones Act's merits every time there's a hurricane or some other event that supplies the pretext to blame the nearly 100 year old law. But when I recently spoke at a public policy conference, I saw Continue reading →
---