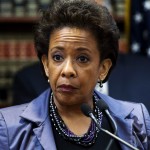 By Bre Payton • The Federalist
Former President Obama's attorney general, Loretta Lynch, used a fake name to cover up an investigation into Hillary Clinton's email server, indicates an admission from Lynch's attorney.
Lynch was caught conducting a secret meeting with Bill Clinton aboard a private plane on a tarmac in Phoenix last year as Clinton's wife pursued the presidency and amid an ongoing investigation into Hillary Clinton's private, unsecured email server, which she illegally used during her tenure as secretary of State. Soon afterward, the former attorney general reportedly used a pseudonym to coordinate a narrative about the meeting with Department of Justice officials, Chuck Ross at The Daily Caller reports.
Also shortly after the private plane meeting, former FBI director James Comey announced that agency would not pursue a case against Clinton, despite admitting he had enough evidence to do so. Continue reading →
---