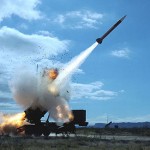 By Bill Gertz • Washington Free Beacon
Two U.S. Ground-based Interceptor missiles destroyed a target in space during a successful test of the Pentagon's strategic missile defense system on Monday.
The interceptor missiles were fired from Vandenberg Air Force Base, Calif. In the first salvo-launch against a target intercontinental missile launched 4,000 miles away at Kwajalein Atoll in the Marshall Islands, according to the Missile Defense Agency (MDA).
The first GBI destroyed the target missile's reentry vehicle and the second interceptor zeroed in on debris and blew up the largest piece in a precision kill, the MDA announced.
MDA Director Air Force Lt. Gen. Samuel A. Greaves called the first multiple-interceptor test a critical milestone for advancing the missile defense system.
"The system worked exactly as it was designed to do, and the results of this test provide evidence of the practicable use of the salvo doctrine within missile defense," Greaves said.
---