By George Landrith • Newsmax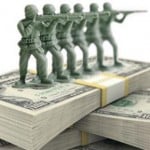 One of the primary reasons the original 13 colonies formed a constitutional federal government was to provide for the common defense. Even more than 200 years ago, the Founders understood that the world was a dangerous place. Today, it is even more so. We have more adversaries with more powerful weapons, and they are much closer to us than in the 18th century. Oceans once separating us by months, now only separate us by minutes.
Powerful nation states, like Russia and China, now threaten America. But what might be an even larger concern are rogue states with unhinged and unbalanced leaders like North Korea and Iran. While the spreading danger of radical Islamist jihadism is ongoing, since Sept. 11, 2001, we've focused primarily on the terrorism threat, and done little to be better prepared for the more traditional nation state threats.
America needs a military force which can deter any who may endanger Americans. And when an enemy will not be deterred, we must have a military which will quickly defeat them. Some believe diplomacy should play a greater role, but I would argue military preparedness also augments our diplomatic efforts, making conflict less likely. Continue reading →
---