Criminalizing ordinary highway speeding and jailing drivers for going 11 miles per hour over the limit is a grotesque abuse of power.
By George Landrith & Dina Roumeliotis • Frontiers of Freedom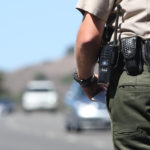 This summer, millions of Americans have been on road trips through the highways of Virginia. The state's top speed limit is clearly posted at 70 miles per hour. However, what few drivers know is that driving at a speed greater than 80 miles per hour — a mere 11 miles per hour over the top speed limit — is criminal reckless driving under Virginia law. Driving on an open freeway, the flow of traffic is typically somewhere between 78 and 85 miles per hour. And yet, in Virginia (and many other states) going with the flow of traffic on an open freeway can subject you to insanely harsh criminal punishment. In Virginia, that means up to one year in jail and heavy criminal fines of up to $2,500, plus thousands in related legal fees. All across the nation, similar abuses in traffic laws exist.
Any honest driver will admit, at least to themselves, that at varying points in long freeway drives, they have driven more than 10 miles per hour over the speed limit — just driving with the natural flow of traffic or by accident. How would you feel about being stopped for driving more than 10 miles per hour over the limit while on a family vacation and not getting a ticket, but instead being hauled off to jail? Does that sound like a reasonable exercise of government power? If we keep criminalizing ordinary and small infractions that virtually every American does, soon every American can spend time in jail. This is an absurd policy. Yet, that's the direction things are going. Continue reading →
---