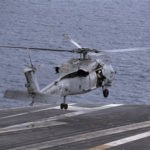 by Susannah George • Military.com
BAGHDAD — As Iraq emerges from three years of war with the Islamic State group, the U.S. is looking to roll back the influence of neighboring Iran and help the central government resolve its dispute with the Kurdish region, the American envoy to the country told The Associated Press.
U.S. Ambassador Douglas Silliman took up his post in Baghdad in September 2016, just weeks before the start of the operation to retake the northern city of Mosul. With ISIS now driven out of all the territory it once held and Iraq's declaration that the war against the extremists is over, he says Washington is focused on keeping the peace and rebuilding, and sees Iran's influence as a problem.
"Iran simply does not respect the sovereignty of its neighbors," Silliman said. "The Iranians have — to some extent — assisted the government of Iraq in defeating ISIS," he said. "But frankly I have not seen the Iranians donating money for humanitarian assistance, I have not seen them contributing to the U.N. stabilization program."
---