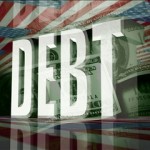 by Ali Meyer • Washington Free Beacon
The Congressional Budget Office issued its latest budget and economic outlook: Government spending is projected to outpace federal tax revenues over the next decade, driving up the debt to record-high levels.
The federal government collected $17 billion more in revenues in 2016 than in 2015, and most of that money came from individual income taxes. Overall, the budget office predicts that revenues will rise by 4 percent on average over the next decade, rising to 18.4 percent of gross domestic product by 2027.
Despite the increasing amount of taxes that the federal government is collecting from the American people, the amount the government spends is even greater. Continue reading →
---