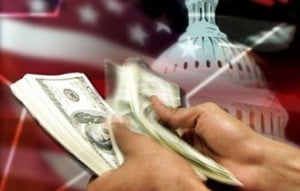 by Terence P. Jeffrey
Federal tax revenues continue to run at a record pace in fiscal 2014, as the federal government's total receipts for the fiscal year closed April at $1,735,030,000,000, according to the Monthly Treasury Statement.
Despite this record revenue, the federal government still ran a deficit of $306.411 billion in the first seven months of the fiscal year, which began on Oct. 1, 2013 and will end on Sept. 30, 2014.
In the month of April itself, which usually sees the peak tax revenues for the year, the federal government ran a surplus of $106.853 billion. While taking in $414.237 billion in total receipts during the month, the government spent $307.383 billion.
In fiscal 2013, the federal government also ran a one-month surplus in April, taking in $406.723 billion during the month and spending $293.834 billion, leaving a surplus of $112.889 billion. Continue reading →
---