From domestic politics to foreign policy, Obama and his aides frequently appear overtaken or overwhelmed by events.
by James Oliphant, White House Correspondent    •    National Journal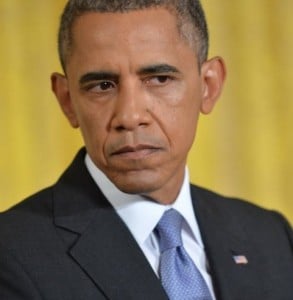 President Obama is shocked, we are told. He's "visibly angry" over the government's response to the domestic Ebola threat.
A report in The New York Times over the weekend portrayed the president as a frustrated chief executive, directing federal officials to be more "hands on" and to be more on top of events rather than reacting to them.
If this feels familiar, it's because that has been the go-to White House play for some time when bad news arrives—always unexpectedly—as Obama's presidency seems overwhelmed by the sense that things aren't quite under control either within the administration or beyond it, in places overseas such as Iraq and Ukraine.
The president and his staff have seemed flat-footed, reactive, surprised, and at the mercy of outside events rather than in command of them. That has contributed to an abject feeling of powerlessness emanating from the West Wing—one augmented by the administration's own insistence at times that its reach is limited, that there was little it could to do to ease this summer's border crisis, or push Vladimir Putin back into Russia, or protect towns under threat from Islamic State forces.
So Obama was "madder than hell" when he learned about the patient backlogs at the Veterans Administration, aides said. He was angry when he was told about the problems with the federal health care website. He was mad when he found out that the Internal Revenue Service was targeting nonprofit political-advocacy groups. [Editor's Note: Obama later labeled the very IRS scandal that had once made him "mad," a "phony scandal" when it suited him to do so. Thus, he may also have claimed he was angry when it was politically expedient to do so. This may explain the low trust polling numbers that he has received of late.] Continue reading →