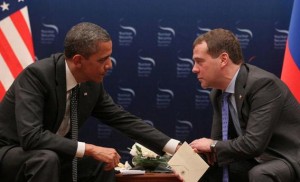 by Charles Krauthammer
Vladimir Putin is a lucky man. And he's got three more years of luck to come.
He takes Crimea, and President Obama says it's not in Russia's interest, not even strategically clever. Indeed, it's a sign of weakness.
Really? Crimea belonged to Moscow for 200 years. Russia annexed it 20 years before Jefferson acquired Louisiana. Lost it in the humiliation of the 1990s. Putin got it back in about three days without firing a shot.
Now Russia looms over the rest of eastern and southern Ukraine. Putin can take that anytime he wants — if he wants. He has already destabilized the nationalist government in Kiev. Ukraine is now truncated and on the life support of U.S. and European money (much of which — cash for gas — will end up in Putin's treasury anyway). Continue reading →
---