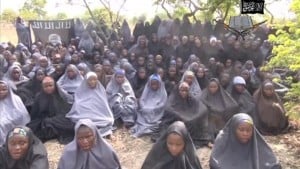 By Shawn Macomber  • Lawfare Tyranny
In a scathing, disquieting op-ed marking the one year anniversary of the abduction of 276 Nigerian schoolgirls by Boko Haram terrorists Global Justice Center President Janet Benshoof pulls no punches:
As I write this, the Chibok schoolgirls have been enduring lives of daily terror and torture, including rape, forced marriage and conversion to Islam, forced pregnancy and sexual slavery, for 365 days. Compare that to the search for the 239 passengers lost on Malaysian Airlines Flight 370, which disappeared about the same time. Immediately, a multinational effort was launched, costing tens of millions of dollars. The world's most sophisticated technology was deployed to scour the ocean floor three miles deep. Active search efforts continue today.

So, what does this say? It demonstrates the gulf between global concern about women and the political will to do something about it.
Benshoof goes on to make a convincing case for categorizing recent depravities by Boko Haram as genocide.
Alas, her plan of action leaves much to be desired:
This week, I have urged the chief prosecutor of the International Criminal Court, Fatou Bensouda, to take the first step toward finding the Chibok girls and holding those accountable for their abduction.
For the the sake of argument let's leave aside the fact that Bensouda's primary job description these days appears to be unconvincingly defending her own sorry record and, instead, focus on what Benshoof hopes the ICC will accomplish in Nigeria:
It is critical that Bensouda examine whether Boko Haram's gender-based abductions amount to genocide for the following reasons: It would put all countries unequivocally on notice that genocide may be occurring in Nigeria, propelling them to action; it will make clear Nigeria's own obligations to stop this conduct and to prosecute it vigorously; it will send a message to other perpetrators, including those currently targeting Yazidi women and girls in Syria and Iraq, that genocide will not be tolerated; it will fulfill the prosecutor's own commitment to fully prosecute crimes aimed at women and girls and to integrate a gender perspective into every stage of its work; and finally, it will trigger the international community's responsibility to protect the Nigerian population.
Sounds wonderful, doesn't it?
But let's be serious: Unless Boko Haram has a collective fear of finding itself buried under a mountain of strongly worded press releases the deterrence effect brought to bear by the threat of ICC prosecution will be nil.
Here is how we put it a couple months back when UNESCO head Irina Bokova suggested referring ISIS to the ICC would "mobilize a big part of the international community" to snuff out that similarly apocalyptic cult:
[I]t seems highly unlikely that a gang of nihilists who man military checkpoints with twelve year-old soldiers, burn captives alive, gleefully behead noncombatants on camera for YouTube upload, and never miss an opportunity to crow about their eagerness to be martyred will be the same sort of people who fret about the opinion of the international community.

But let's suppose, for the sake of argument, they were that sort of people. Why should they fear the ICC — an organization which after more than a decade and $1 billion dollars has precisely two convictions to match up alongside innumerable embarrassments and failures?

And if the purpose of the ICC — as evidenced by its monomaniacal fixation on selectively prosecuting countries without powerful benefactors and faux boasts of impartiality — is not actually universal justice or even deterrence, what is it?