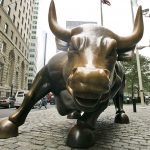 Bull Market: Amid all the political noise in Washington, a milestone was passed Wednesday, one you may not have noticed. The bull market for stocks has now become the longest since World War II. Can it continue? That depends on federal policies.
We're grateful to CNBC for actually counting the days: 3,453, starting on March 9, 2009. That's a long time — 9.46 years to be exact.
Yes, it's been a bull for the record books. Even so, we would note that the bull hasn't been without tests to its longevity. And some might even deny it's been a bull market all this time.
One common definition of a bear market is a decline of a major stock index by 20% or more from its previous all-time high, or 52-week high. Well, way back in 2011, the market was actually off more than 20% from its previous high, but on an intraday basis. So, technically, some think the bull ended. But it snapped back by the end of the day's trading, so others say no.
But however you look at it, the fact is that the market has been on a long-term tear. The bull run began Continue reading →
---