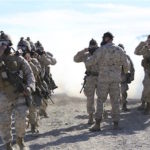 by Jerry Hendrix • National Review
President Trump today unveiled his new National Security Strategy (NSS), exceeding the expectations of the national-security community by producing a remarkably coherent NSS within his first twelve months in office. President Obama took 16 months to present his vision, and President George W. Bush, dealing with the disturbance of 9/11 to his strategic considerations, took 20 months. Clearly guided by the vision enunciated by the president during his 2016 campaign and validated by that national election, the team of Lieutenant General H. R. McMaster, Dina Powell, and Nadia Schadlow has crafted a "sustainment" strategy supported by a peace-through-strength defense buildup. What is very clear is that this strategy is not a break from the nation's post–World War II–era national-security policy but rather a realistic distillation of that policy tailored to the challenges the nation faces today.
However, in a break from his post–Cold War predecessors, President Trump readily announces that the United States is presently in a great-power competition and names the nation's prime competitors as Russia and China. While appeals to American values remain, and in fact are strongly stated, it is the promotion of American interests that emerges most starkly. The president states that he plans to compete aggressively in the economic sphere by pursuing free, fair, and reciprocal trade on a bilateral basis while also confronting nations that violate the free-trade agreements signed in the past. Additionally, the new NSS breaks from the language of the Obama administration by overtly promoting American exceptionalism and presenting the United States as a force for good in the world. As such, the new NSS emerges as a true amalgam of Theodore Roosevelt's warrior approach to the world and Woodrow Wilson's attempt to be its priest.
From the perspective of pure defense analysis, President Trump and McMaster, his national-security adviser, have taken a new path. Rather than continue to pursue a pure capabilities-overmatch acquisitions strategy within the Department of Defense, the Trump NSS seeks a balance between capabilities and capacity by continuing to invest in cutting-edge technologies while also expanding the force and improving readiness. It seeks to accomplish this by investing in high-end, cutting-edge combat systems to win wars while also providing for larger numbers of personnel and buying cheaper legacy combat systems to maintain the peace. Clearly, President Trump's commitment to a 355-ship Navy falls within this approach. The president also firmly commits the nation to recapitalizing the nation's nuclear-deterrent force and renewing all three legs of the nuclear triad. This strategy is enabled by the president's call for increased defense spending, a goal that is shared by Armed Services Committee members in both the House and the Senate.
---