By Peter Roff • Townhall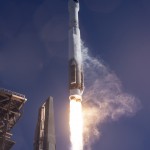 Earlier this month, President Donald J. Trump signed a space policy directive to "restore American leadership in space." To the excitement of many, this directive includes sending men back to the Moon and perhaps even Mars. The prospect of making dreams a reality once again is enthralling, something we will do, echoing a previous chief executive, not because it is easy but because it is hard.
To do all this, to optimize performance and ensure a successful, modern-day space program, government appropriators must adhere to a standard set of business protocols. It is essential NASA and the White House have clear goals in mind and ensure the interests of the country are at the heart of every mission. Stating the objective of going to the moon is not enough; bureaucrats need to take the process a step further and iron out precisely what it wants to achieve, how much it will cost to do so, and why the country will be better off as a result.
It is true few companies would turn down a government contract – after all, no one's checks clear better than Washington's – but that is not license for decision-makers to issue them carelessly. Every mission must have the clear intent of either advancing national security interests or significantly increasing the country's scientific progress before the disbursement of taxpayer funds begin. The general rule of thumb should be that if extensive research from private firms has not been conducted on a given topic, it is likely not worth the federal government pursuing.
---