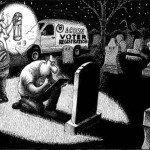 By Tammy Bruce • Washington Times
As President Trump's Presidential Advisory Commission on Election Integrity met on Tuesday in New Hampshire to discuss voter fraud, the usual liberal suspects cried wolf.
During last year's election, the president voiced what we know — that voter fraud exists. The only question is to what degree, and that's the mission of the commission.
For anyone who dismisses concerns about voter fraud, the unhinged reaction by the left at investigating it should, at the very least, make a logical person wonder what they're so concerned about.
After all, if you believe the issue is false, or at the most an irrelevant factor in end results, you should welcome confirmation of that fact. Unless, of course, one fears the actual outcome may prove how voter fraud impacts local and state races to the point of shifting the balance of power in Washington, D.C. Continue reading →
---