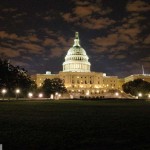 Americans now rank "gridlock" as their top concern when it comes to the economy. We are reluctant to disparage the wisdom of the masses, but in this case they're wrong. Gridlock, for lack of a better word, is good.
The new IBD/TIPP Poll asked "Which of the following poses the greatest risk to the current U.S. economy?"
At the top of the list was "gridlock in Washington" which 41% named as the greatest risk. Coming in second a good distance back was "trade disputes" at 26%. "Higher interest rates" came next at 12%, followed by "rising prices," 9%, and "Special Counsel investigation" at 8%.
"Gridlock" came in first place among Democrats, Republicans and independents. Among the young and old. Men and women. North, South, East and West. Rural and urban. Wealthy and working class. Investors and non-investors. Continue reading →
---